Foreign Editions
Ein Dämon Zuviel (One Demon Too Many)
German edition of Myth Adventures.
#1: 1988 [Splitter-Verlag] DM8,80 32pp
Illegal Aliens
Written by Nick Pollotta and PF
Cover and Illustrations by PF (?)
1994 [Armada Press, Moscow] $?? Book
2006 [AST Press, Moscow] $?? Book
Magic: The Gathering
Too many cards in too many languages to mention!
Super-Team
Swedish translations of various DC comics.
#3: 1992 [Epix] SEK19 68pp
#6: 1992 [Epix] SEK19 68pp
XXXénophile Tome 1
French edition. Large format!
Translation: Pépino
Graphic Adaptation: Libra Scorpius
Mar, 2001 [BDérogène/SEEBD] $N/A Hardcover 64pp ISBN:2-7474-0020-4
Unique Items
Obviously Phil has done many unique sketches and comics over the years. (Phil also has a habit of doing sketches on and signing dinner plates.) This is a list of some of the more interesting "one-offs" that have never been published so are not covered anywhere else in the Gallimaufry.
D'Arc Tangent #2 Cover
"Free for all" and unused "I'm Rubber, You're Glue" Double spread
Ink and Gouache on illustration board
~14" wide x 5 5/8" tall.
GenCon '94 Artist Jam
Ink and Pencil(?) on 3 pieces of illustration board
~7.5' wide x 3.5' tall
Magic: The Gathering - Unglued Two
WoTC planned a second humorous card set back around 1999, but then Pokemon took off in a big way and it was postponed. When eventually a second set was produced none of Phil's original designs were used. (But he did get paid anyway.)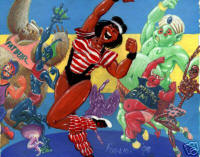 Aerobics Instructor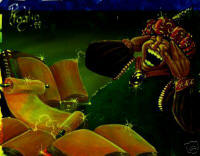 Now I Know My ABC's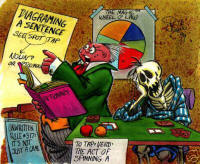 Rules Lawyer
End of Gallimaufry